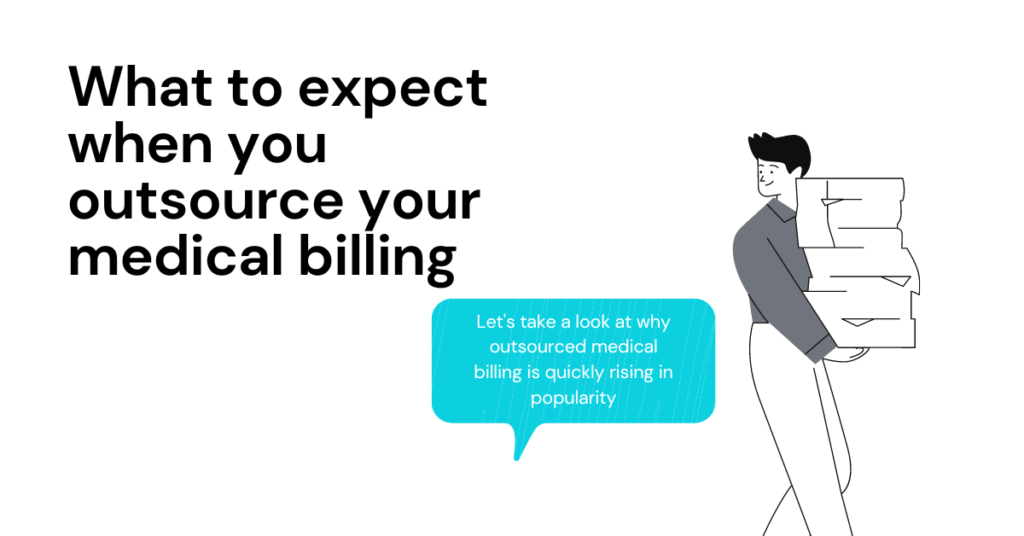 In today's fast-paced healthcare industry, medical practitioners face the dual challenge of providing quality patient care while managing complex administrative tasks. One solution gaining popularity is outsourced medical billing services. So let's explore what to expect when you outsource your medical billing to a third-party service provider.
But first, let's take a look at what outsourced medical billing is and how it differs from billing in-house.
What is outsourced medical billing?
Traditionally, many practices have relied on in-house staff to handle their billing processes, but this approach is gradually losing popularity. In an in-house billing setup, staff bear the responsibility of managing the entire billing workflow, from submitting claims to following up with Medicare, DVA, Health Funds, and other insurers to address rejections, pursue payments, and reconcile transactions. This often involves spending substantial amounts of time on hold, sometimes exceeding 30 minutes, to address a single claim or rejection. All the while, they must also juggle attending to patients and fulfilling other core duties.
On the other hand, opting for outsourced medical billing allows you to offload the laborious and monotonous aspects of billing to a specialised third-party service provider. They are experts in the field of medical billing and will work diligently to maximise the reimbursement for your services.
With the introduction out of the way, here is what you can expect when you outsource your medical billing to a reputable third-party.
Boosting Revenue Streams: Uncover Hidden Revenue Opportunities
When you hire a professional billing service provider, you tap into their expertise and industry know-how to get the maximum reimbursement for your services. They can identify missed billing opportunities and unlock hidden profit centres. Whereas, with in-house billing, you would have to find and attract this talent yourself. Then, invest in their training and development to keep up to date with the ever changing tides of the medical billing landscape
You can also expect to minimise billing errors and rejections. Well established providers will have quality assurance measures in place to prevent billing errors, resulting in faster payments. With in-house billing, you may have one reception staff member undertake all of the billing and rejection handling, on top of their regular administrative duties. Whereas, with outsourced medical billing the provider would typically have a dedicated personnel do the billing and other members of staff cross check, to ensure accuracy before submitting.
What's more, you will never have to worry about changing Medicare or health fund rates. When you hire a reputable provider, it becomes their responsibility to keep up to date with changes in the billing schedule of fees for Medicare, DVA, and the private health funds. Even if they are billing your backlog of historic claims.
Efficiency Unleashed: Streamlining Administrative Workflows
You could save hours every week! Offloading the laborious task of your medical billing will help you save valuable time, allowing you to focus on what matters most: your patients.
You can also expect to get more out of your staff when they are not bogged down by chasing rejections, being on hold dealing with the health funds, or reading up on the latest changes to billing regulations and requirements
Most practices can expect to cut back on staffing requirements after engaging a medical billing service provider when billing, rejection handling, payment reconciliation, and reporting is taken care of by an industry experts
Another hidden efficiency gain is doing away with software updates and managing backups. You won't need to create a support ticket every time you need software support for your billing system and waiting (sometimes days) for a callback.
Scale Your Practice
With outsourced medical billing, your billing expense is a variable expense. That means it scales with you and reduces your business risk. Whereas with in-house billing, your staff salaries are a fixed expense. This means you will have to pay it whether or not business is booming. And if your billing load increases, you may need to hire more staff members, onboard, and train them.
So when you hire an outsourced billing provider, you can expect to pay just a nominal percentage of the payments collected for you in service fees. There are typically no sign up fees, no ongoing fees, no support fees, and no lock-in contacts. You use them as needed, simply sending them your claims and they will bill it for you.
You can also expect to receive a report every week and every month, highlighting what was paid, what is still outstanding, and why. This transparency keeps you informed, powering you to make smarter decisions for business growth.
By partnering with an outsourced medical billing service provider, doctors, clinics, and hospitals can unlock a range of benefits, including increased revenue, streamlined workflows, regulatory compliance, cost savings, and business growth. Embracing outsourcing allows healthcare professionals to regain valuable time, enabling them to focus on their core competency of delivering exceptional patient care.
Let MYNT Medical Billing Services take care of your billing!
The MYNT team has over 40 years of combined experience in medical and hospital billing, claiming and health fund agreement understanding, along with the right health fund contacts to ensure your claims will be accurate with a fast turnaround. MYNT Billing Services is backed by award winning company Altura Health, the medical billing experts and company behind FYDO – Australia's preferred Patient Administration System for Private Day Hospitals.
Explore the opportunities waiting for you through outsourced medical billing. Our Australian based support team is ready to assist you with onboarding and answering any questions you may have. Contact us today!